We are still open, processing & shipping orders and responding to enquiries.
Advanced Card Bureau Ltd has been classed as an essential service providing NHS staff, Nurses, Doctors, Care Workers and Volunteers with their ID cards so they can continue to do their work.
We are hearing of a growing number of these particular workers being stopped by the police and being asked to prove that they are travelling for essential work purposes. In these circumstances you would need to display a form of ID to prove that you fall into this criteria.
As a result of this we are prioritising all of our ID cards with a turnaround of 24 hours so that these key workers can continue doing their great work.
Due to recent speculation of fraudulent activity surrounding COVID-19, we do not have the facility to allow customers to design their own ID cards on our website.
We would like to encourage our customers to contact us via one of the methods below.
You can email us at sales@acb-ltd.com or call on 01308 426312
For more information or a competitive quote
Make an enquiry
Or call us on 01308 426312
Photo ID Cards
Photo ID Cards in the workplace are becoming more and more common. Advanced Card Bureau Ltd is the UK's leading photo id card printing company.
Having a photo ID card is the perfect way to let others know who you are whether at the workplace, on business trips or at business functions / exhibitions.
We cannot provide any form of official "proof of age" ID cards. For info about proof of age card, please click here
Why Choose ACB Ltd To Produce Your ID Cards?
Here at ACB Ltd, We have been providing ID Cards for over 18 years now to many industry sectors all over the country, such as Schools, Colleges, Universities, The NHS, and many small to large businesses. Our printing service makes it easier for you to issue your staff with full-colour Photo ID Cards.
For more information or a competitive quote
Make an enquiry
Or call us on 01308 426312
How It Works
The first step is to come up with a basic template for your photo ID card design. If you are unsure of what you would like then we would be happy to either send you some samples of ID cards that we have or come up with a fresh idea specifically for your card.
We can then create a PDF proof sheet of your proposed ID card for you to view and approve before we finalise ID card printing..
If you are happy with this we can then provide ID cards showing a photograph of the holder plus other relevant details. These details can also be encoded on to magnetic stripes and/or in barcode form.
Any quantity accepted
24-48 hour turnaround
Customised cards (logos, graphics)
Single or double-sided printing
Magnetic stripes & encoding
Affordable option - no capital outlay
Colour coding
Signatures and barcodes
Send-by-mail facility available
Need Accessories With Your ID Cards?
Advanced Card Bureau Ltd we stock a wide range of ID card and badge-wearing accessories to ensure your chosen form of ID is worn and displayed in the most practical and safest way for your needs. We have a suitable variety for all sectors and applications including security, high-risk environments, manufacturing and events.
Cardholders and pouches are generally attached to a lanyard or yo-yo but we also stock solutions for displaying cards in a vehicle windscreen, which are ideal for car park access control.
Cardholders come in a wide range of colours and formats: portrait, landscape, rigid, flexible, food safe, open-faced, enclosed, secure lockable, single sided and double sided!
We have many options ranging from metal clip to plastic clip. Click here to see them all.
Badge reels come in a variety of colours and styles, including heavy duty and options that can be personalised with your chosen logo.
For wearing cards as a badge on clothing we stock locking clips, clothes clips, grippers, magnets and pins.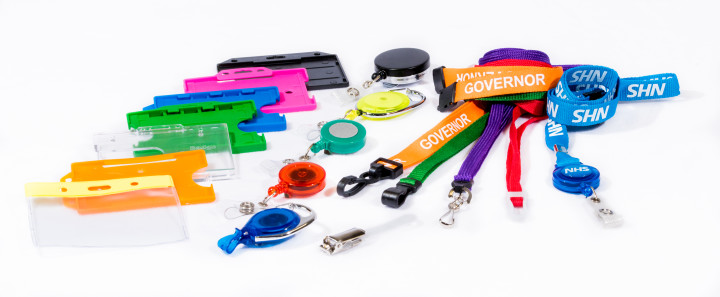 For more information or a competitive quote
Make an enquiry
Or call us on 01308 426312