Advanced Card Bureau Ltd supplies a variety of plastic card types from 300 to 810 micron thick. A Credit/Debit Card is 760 micron which is the normal standard thickness for plastic cards.
The following are examples of the kinds of plastic cards for which we are one of the UK's leading suppliers: Membership cards, Reward cards, Loyalty cards, payment cards, Library Cards, Casino Membership cards, Gift cards, Bingo membership cards,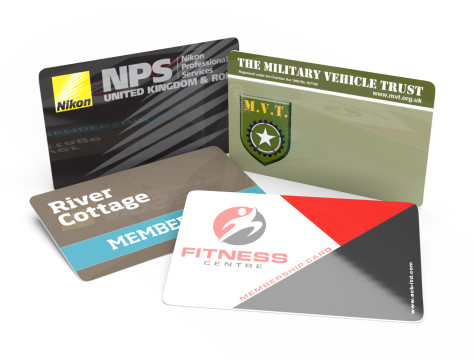 football club cards, plastic business cards, bars and restaurant cards, Calendar cards, Helpline cards, Photo ID Cards, Information cards, Insurance cards, Key cards, Access cards, Privilege cards and plastic business cards.
The cards are produced using various methods of printing:
Litho Printing
Digital Printing (full colour)
Screen Printing
Dye-Sublimation (thermal printing)
For more information or a competitive quote
Make an enquiry
Or call us on 01308 426312
Quotation
We aim to provide you with a quotation for plastic cards within 1 hour from receipt.
Quantity
Quantities can be from a single plastic card to millions.
Design

We have our own studio in-house which will create your plastic card design and other related stationery for your project. Under normal circumstances no charge is made for artwork we create for products we supply for you.
Delivery
We always aim to despatch your cards between 12 - 15 working days (depending on the quantity).
We can achieve shorter delivery times in certain circumstances but this will occur an additional charge depending on how quickly the cards are needed.